UPDATED: 18th March 2020
Dear students, parents, colleagues and friends of MAPA,
We know it's a crazy time right now and people everywhere are being affected by the impacts of Coronavirus (COVID-19).
At MAPA, the health and wellness of all our students, families, staff and guests are of the upmost importance.
At this stage, all classes are going ahead until at least Friday 20th March. We will not be able to run all classes on Saturday 21st March due to the ban of mass gatherings of more than 100 people indoors. This Saturday only Elite classes will run to minimise the number of students in the building. We will remain informed and closely monitor the Government Health Advice as under link: https://www.dhhs.vic.gov.au/victorian-public-coronavirus-disease-covid-19
During the week between Monday and Friday we do not reach the limit of 100 people or more in the building at one time. So at this stage we plan to keep classes going during the week. But with the situation changing by the day, this decision may need to be reviewed. In the meantime, we are doing all we can to ensure the high standards of hygiene are maintained at MAPA and have put the following procedures into affect:
Increased cleaning and disinfecting of studios, bathrooms and common areas
Cleaning and disinfecting of ballet bares after every ballet class
Frequent cleaning of door handles throughout the building
Teachers have been informed to practice social distancing during class (no hand holding, contact or partner work)
Teachers will also be asking students to wash their hands before and after classes
Signage has been placed around the studio and behind every toilet door to promote hygiene
Removal of class and learning equipment such as acromats, bean bags, ribbons, etc
Please help us to keep MAPA studios and all students, staff and families healthy in our community by doing the following:
Wash your hands thoroughly when you enter and before and after every class AND dry them
Only drink from your own drink bottles and eat from your own lunchboxes
Cover your nose and mouth when you sneeze (eg. into your bent elbow or a tissue) and wash hands immediately
Avoid handshakes, hugs and other physical contact with others
If you are unwell, please do not attend classes and inform us via email
Please do not attend classes, if you have recently returned from travelling overseas or from an affected area
Stay up to date with the government advice from any of the following links:
www.dhhs.vic.gov.au/victorian-public-coronavirus-disease-covid-19
www.health.gov.au/news/health-alerts/novel-coronavirus-2019-ncov-health-alert
www.who.int/emergencies/diseases/novel-coronavirus-2019/advice-for-public
Dance can have numerous health benefits including improved strength, heart-health, balance and immunce system function. It also decreases stress and promotes emotional well-being. MAPA will continue to do our part in keeping our dance space as safe and as healthy as possible and keep everyone dancing. However, in the event that Victorian schools or schools in our local area close up, then we are preparing to do the same. We have already begun plans to film and upload class exercises and routines as well as activities such as online quizzes, colouring pages and various resources for students to stay involved and continue learning from home.
We understand this is an extremely difficult time with a lot of uncertainty. Please know we are committed to working through each and every difficulty presented to us. We encourage everyone to stay safe, be kind, stay positive and take the time to be thankful for the simply things we take for granted in our daily lives.
We will be in touch with updates as they arise. If you have any questions please don't hesitate to contact us.
Warmest regards,
Sarah Ambrose
Principal Director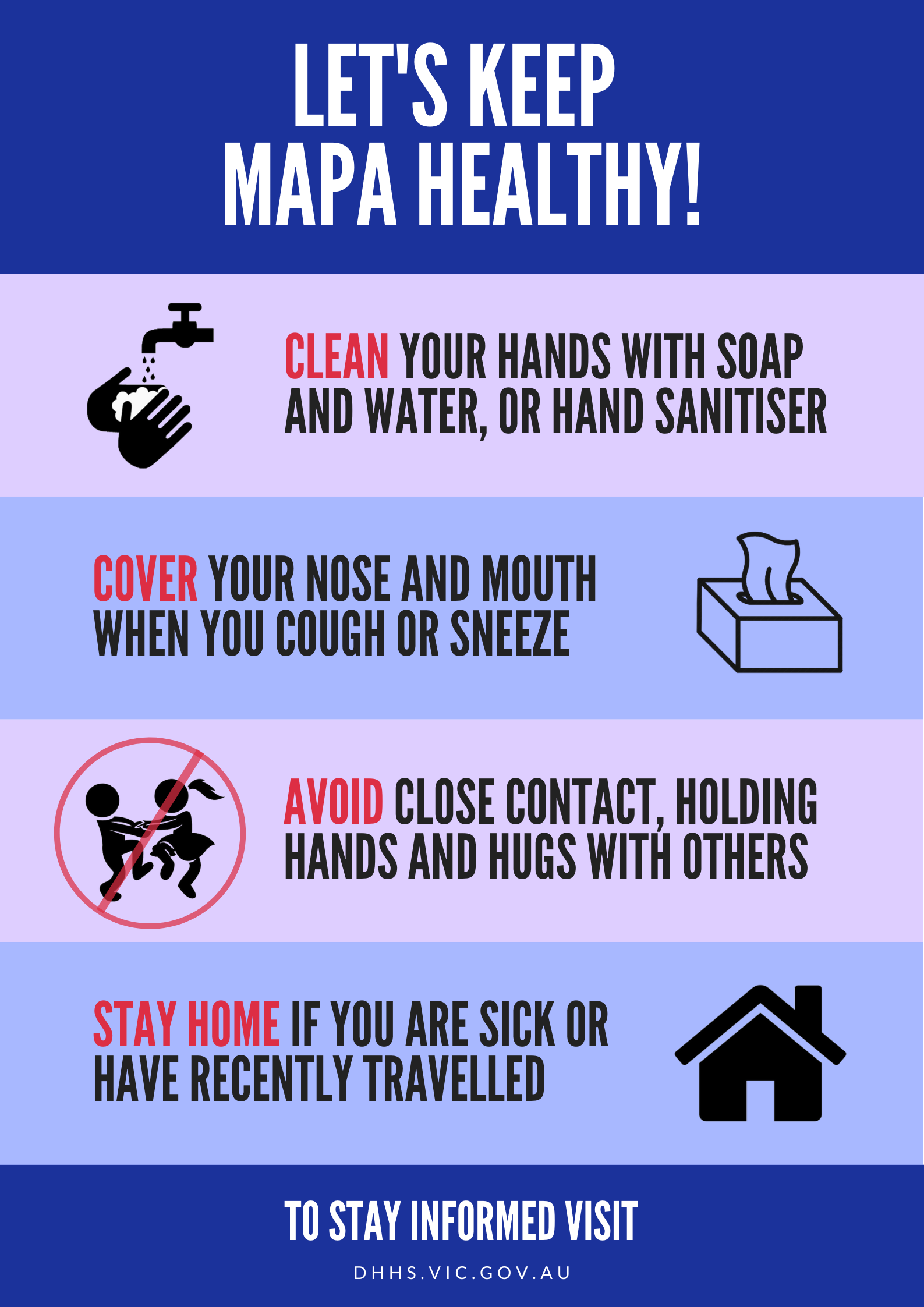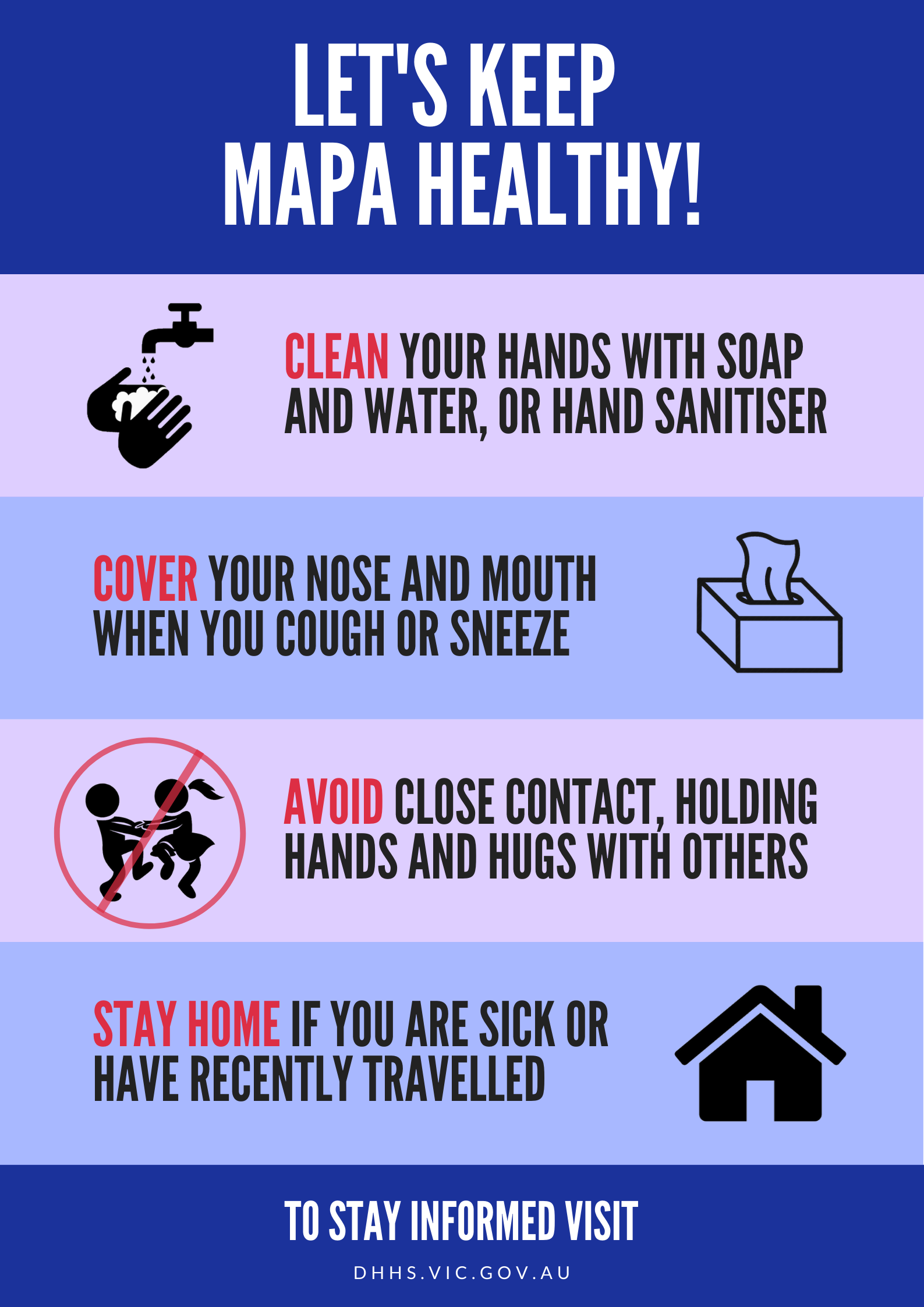 0