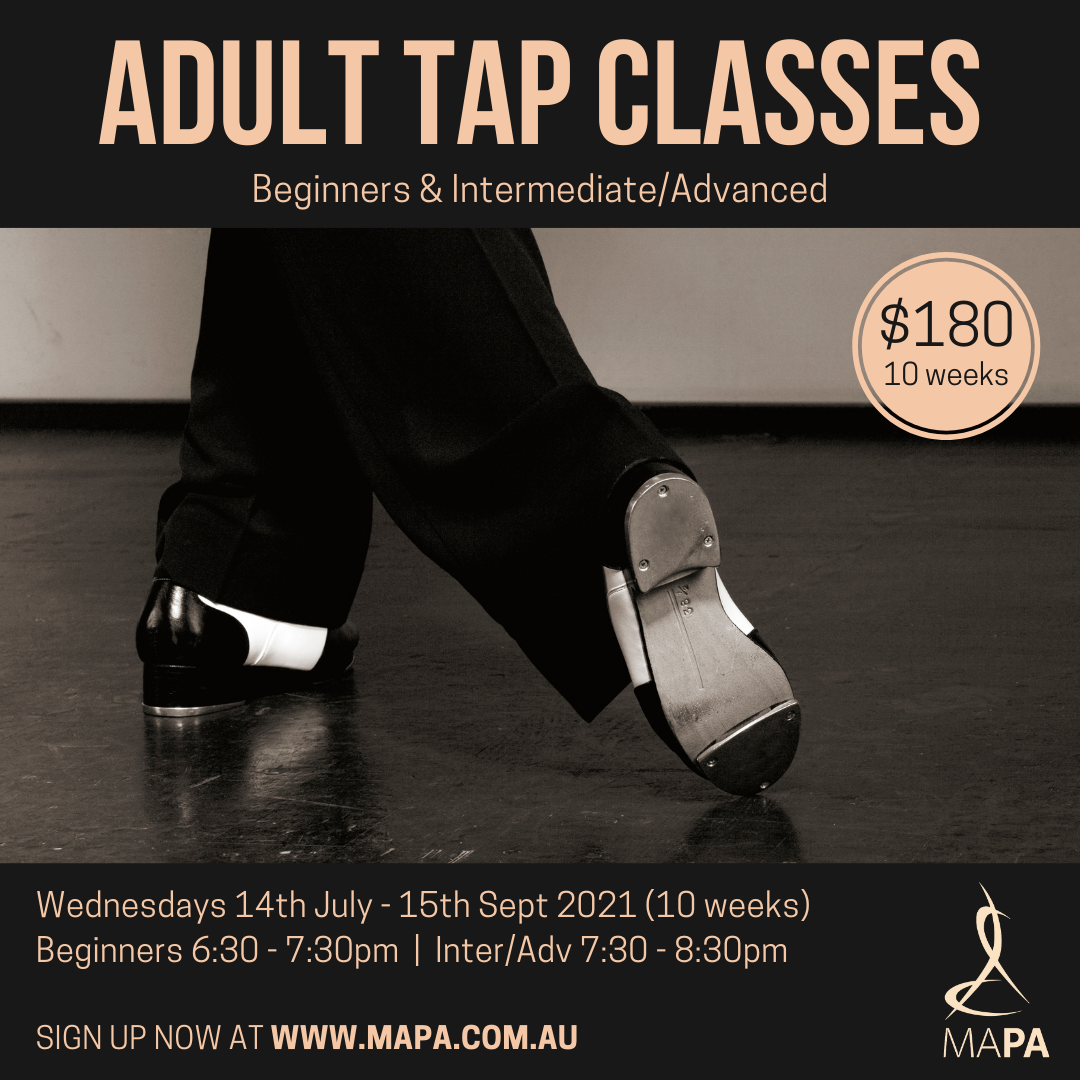 We are so thrilled to be offering Adult Tap classes for the first time at MAPA starting April 2021! Our awesome teacher Deb Tomlinson will not only teach you all the best tap steps, foundations, drills and choreography, she'll also make sure you have the most fun doing them! No experience is required for our beginners classes. Also, if it's your first time taking Tap and you just want to get a feel for this style of dance, there's no need to go out and buy a pair of Tap shoes, a hard sole shoe or boot will do just fine.
Our Tap courses usually run for 5 weeks at a time. However in Term 3, we will run for the full 10 week Term and students will work towards learning an entire group performance routine. Students will then have the opportunity to perform their routine at the MAPA Showcase on Sat 16th & Sun 17th October at The Clocktower Centre in Moonee Ponds. Performing is optional, but of course HIGHLY ENCOURAGED and a whole lot of fun!!!
If you are not available or don't wish to performing in the showcase you can still sign-up and attend for the full 10 weeks to learn the choreography. You will just be placed in a position on the end of the lines so that it doesn't affect the formation of our group who are performing.
Our next course for 2021 will commence on Wednesday 14th July and will run every Wednesday for 10 weeks until (Wed 15th September).
WHEN: Wednesdays
6:30 – 7:30pm (Beginners)
7:30 – 8:30pm (Inter/Adv)
DATES: 14th July – 15th September @ MAPA
COST: $180 per person (10 weeks)
LIMITED SPACE AVAILABLE! SIGN-UP HERE…
0